CUSTOMER REVIEWS
Unfortunately our Guest Book service has been discontinued by our web provider.
Please send your valued comments to info@sugarbush.nl and we will publish them on this page.
Email from: Ms. Gillian Cruise-Johnston from New Zealand on Monday 07 August 2023 :
Greetings from New Zealand!
Thank you so much for your excellent and efficient service. My Dutch friend was absolutely delighted. Definitely 5 stars
!
May you prosper.
Very best wishes,
Gillian
Notification received from Webwinkel Keur on Sunday 16 July 2023 :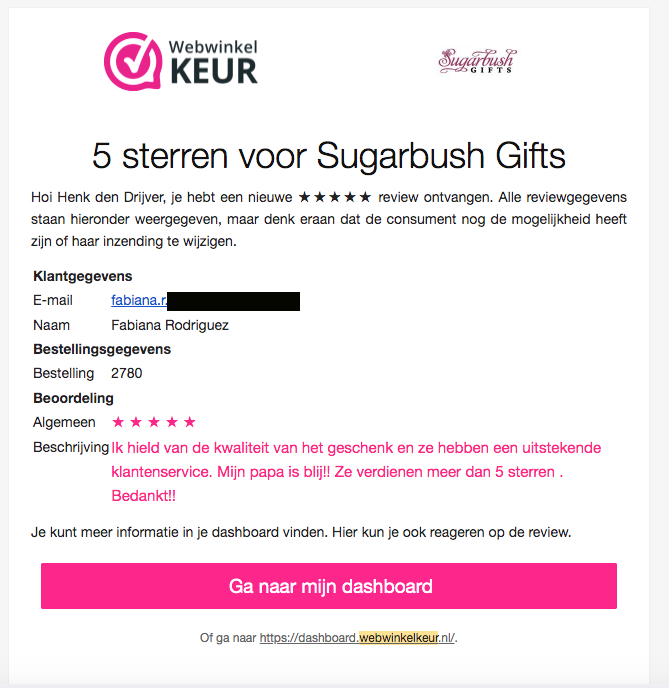 Signed by Ms. Fabiana Rodriguez from Australia
This gift was delivered to the Consulate of Colombia in Amsterdam
Notification received from Webwinkel Keur on Wednesday 28 June 2023 :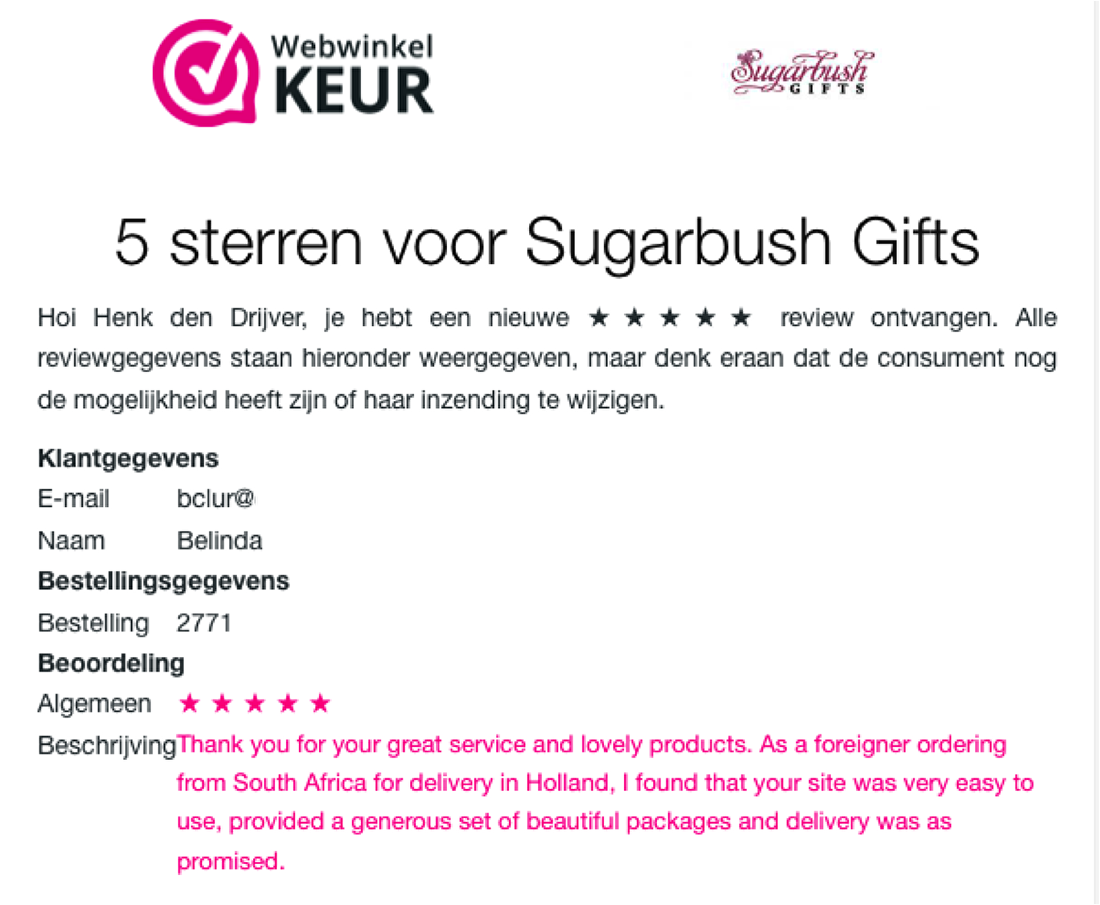 Signed by Mrs. Belinda Clur from Cape Town - South Africa
Email from Mr. Martyn Muir - Vlissingen - The Netherlands on Thursday 01 June 2023 :
Hi All,
I have to say I was really impressed with your service and the feedback which I received, because of the good service I certainly will be using you again.
Yours faithfully
M.R.Muir
Email from Mr. Patrick Burke - Arlington - USA on Thursday 20 April 2023 :
"Sugarbush 10/10 experience. My wife visited Amsterdam and I wanted to surprise her with a 'Welcome to Holland" gift basket at her Hotel. The order was handled smoothly and my request for a specific date/time for delivery was met with no problem. Communication throughout the order and delivery were excellent. Definitely recommend!
-Patrick"
Email from Ms. Leslie Morrison in Canada on Saturday 8 April 2023 :
I am so happy I found your company/site. I live in Canada and my daughter and her partner live in Den Hague. She has been in Holland for 19 years and over the years I have had hits but mostly misses with gifts I ordered.
My daughter took a picture of the basket to show me and I'm very happy with it. I am especially impressed that you included some Easter eggs that were not mentioned in the description of the basket. Thank you so much! 😊
I will most definitely use your service again. Happy Easter to you and yours.
Leslie Morrison
Notification received from Webwinkel Keur on Friday 31 March 2023 :
5 sterren voor Sugarbush Gifts
Hoi Henk den Drijver, je hebt een nieuwe ★★★★★ review ontvangen. Alle reviewgegevens staan hieronder weergegeven, maar denk eraan dat de consument nog de mogelijkheid heeft zijn of haar inzending te wijzigen.
Excellent service from Sugarbush! There were some issues with the address since it was a new building, they went out of their way to resolve it and deliver the package. They were transparent and communicated everything clearly. Thank you!
Signed by Stephan Griesel in Amsterdam.
Email from Mr. Iliya Mafter from Chicago USA on Friday 3 March 2023 :
Thank you, Henk, I appreciate the way you've handled my order.
Email from Ms. Michelle Bosua from Australia on Thursday 20 January 2023 :
Hello
My very special uncle has received the lovely basket I ordered and he was very happy. So am I.
It is not always easy to find something online in The Netherlands that accepts PayPal or Credit Card payment online.
So I was so excited to find your website and very easy payment options.
Thank you so much from Australia. Your service was excellent, delivery was prompt and your packaging just so perfect for my uncle's 80th birthday.
With much appreciation
Michelle Bosua
Order placed via email on 29 November 2022 by Loudwater Trade & Finance Ltd from London UK :
Hi Henk, thank you very much !
I wish you, your family and your staff a Wonderful Christmas and a safe and peaceful New Year.
Hope to do business again in 2023.
Be well and take care.
Many thanks
Kind Regards
Linda Sibley (Ms)
Order placed in our webshop on 28 September 2022 by Mrs. Benedicte Guichard from Amsterdam :
Fantastic selection of gift baskets! Very easy website and great explanations of the contents of each gift. I can't wait to use your site again for more special gifts in the future.
Email from Mrs. Lovella Ajay​ from Bahrain on Friday 26 August 2022 :
Thank you so much for making it easy to express our thank you to our friends in Netherlands. With Sugarbush Gifts, we were able to send them our gratitude through your service. More power to you and to all the team.
Kind regards
Lovella, from Bahrain.
On Sunday 31 July 2022 Mrs. Monique Man from Ireland sent us an email :
Thank you so much for the excellent service I will be using your service again in the future.
Regards Monique
On Saturday 18 June 2022 Mrs. Olivia Parker from Leidschendam in The Netherlands sent us an email :
Dear Henk,
Thank you so much for your excellent service. The gourmet de luxe basket was really appreciated by my friend and both she and I were delighted by the lovely card you had attached.
Your website is excellent and easy to navigate although I didn't notice the section where I could specify a delivery date - maybe you could make that a bit more obvious?
I will definitely recommend Sugarbush Gifts to my friends!
Kind regards
Olivia
On Friday 17 June 2022 Mr. Kevin Hawes from South Africa wrote to us in an email :
Afternoon,
Thank you very much for the excellent service I have received.
Kevin Hawes
On Thursday 16 June 2022 Mr. Craig Holt from Trowbridge in the UK sent us an email :
Hi guys,
I have used your company a couple of times, and couldn't be happier. From browsing your website for a gift to send, to my loved ones receiving them everything is flawless and without issue. I wish you continued success.
Craig
On Friday 10 June 2022 Ms. Hilary Cassady from Bowen Island in Canada sent us an email :
Both Ian and Marj were elated - they were so surprised and loved everything in the basket - felt it really represented their personalities. Thanks so much for making their day special.
On Saturday 30 April 2022 Mr. V.S. Gannamani from Hilversum in The Netherlands sent us a whatapp. message :
Hi Henk! Thank you I received it! Looks beautiful and the contents are classy too! I sent a picture to Mr. Nicholas Lee in Singapore.
On Saturday 17 April 2022 Mrs. Sarah Requena from Belize in South America sent us an email :
Thank you so much for your service. Your products have been top notch and delivery time excellent.
On Friday 24 February 2022 Mrs. Samanthi De Silva from Colombo in Sri Lanka sent us an email :
Thank you for a very prompt service and delivery within 24 hours of placing the order.
I would not hesitate to use your service again!!
Keep up the good work!!
Thanks,
Samanthi de Silva

On Friday 18 February 2022 Mr. Juan Petris from New York in the USA sent us an email :

Thank you for providing the highest quality of customer service. Sugarbush gifts is the best! I appreciate the extra effort made to ensure the recipient received the gift!
Best regards,
Juan
On Friday 04 February 2022 Mrs. AnnSofie Sjurseth from Älta in Sweden sent us an email :

Thank you for great service!
Our daughter was very happy with the baskets and she send nice pictures of them.
On Wednesday 22 December Mrs. Justine Kinsella from Cheshire in the UK sent us an email :
Many thanks, again, to Henk and Sugarbush Gifts for delivering a beautiful gift to my nephew. He said it looks beautiful and can't wait to open it. He also said that the gentleman who delivered (Henk?) was absolutely lovely, just as he was last year.
Thanks
Justine
On Wednesday 22 December Mrs. Marja Collins from Redbank in Australia sent us an email :
Hi Amanda,
​Thank you for getting back to me so quickly with your reply.
About the same time you responded to my email, my brother received his hamper. He has since sent me photos and we've chatted. The hamper looks great.
Your customer service and the gift were really appreciated. Five star service thank you.
Kind regards,
Marja Collins
Sent from my iPad
On Thursday 16 December Mr. Kevin Bauld from Glasgow in Scotland sent us an email :
Hello Sugarbush Family
I'd like to thank you for a 5 Star Service.
I live in Glasgow Scotland and send my good friends in Ede a Christmas gift each year, usually a wee alcohol drink to celebrate!!
After UK Brexit, I found this difficult to do so searched for a company in the Netherlands who could do this for me. After a quick review of the gifts available and realising Sugarbush was a family run business, which I like, and their website was available in English, I purchased the double wine bottle gift for my friends Sander and Marieke.
The transaction was flawless and the delivery schedule updates were excellent.

So thank you very much Sugarbush for a great service in the Netherlands, from a Scotsman!

Kevin Bauld
Glasgow, Scotland

Sent from my iPad
On Thursday 02 December Mrs. Aarthi Ashok from Toronto in Canada sent us an email :
Have used your store several times! Love to support you.
Thanks so much for making my family in Netherlands have special celebrations at a time when
I have not been able to see them in person in over 2 years.
On Friday 29 October Mr. Bruce Dodworth from the Seaglass PR Ltd Co. in Stamford in the UK sent us a message :
Hi Henk:
Yes, everything worked perfectly. The online event took place today and all of the guests seemed very happy with their gift baskets.
Thank you again for all of your hard work and individual attention.
All the best,
Bruce
On Saturday 16 October Mr. Aarthi Ashok from Toronto in Canada sent us a message :
Thanks so much again! Your beautiful basket was much appreciated by my family!

On Saturday 9 October Mrs. Aspen Clontz from Lacey in the USA sent us a message :
Thank you! He LOVED it!
Gratefully,
Aspen
On Saturday 2 October Nicole Boschma from Box Hill South in Australia sent us a message :
Thank you! They were very happy with the hamper and the friendly delivery man.
On Saturday 18 September Mr. Jurgen Beker from Sao Paulo in Brazil sent us a message :
Always superb service!
Bedankt!
Jurgen Beker
Sent from my iPhone
On Sunday 12 September Ms. Janine Heyns from Magnolia in the USA sent us a email :
Hi Sugarbush team
Oh wow! I am so impressed with your service and so happy that I found you guys!
The basket was delivered at the perfect time, and got there just before my sister arrived.
This was above and beyond my expectations and you really made this such a perfect delivery and moment for her.
THANK YOU SO MUCH!
The basket was beautiful and exactly what it looked like online. My sister loved it - here is a pic.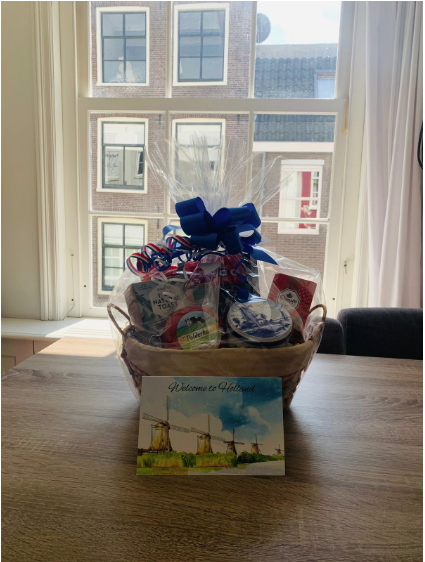 You guys are awesome.
Thank you
Janine
On Thursday 02 September Mrs. Ana-Maria Velica from the United Kingdom sent us a email :
Many thanks. The gift was well received and very much appreciated! Thanks a lot for the great services,
Kind regards
Ana-Maria
On Friday 27 August Mrs. Maureen Masumpad from Davao City, Philippines sent us a email :
I am so happy with their service. I inquire few weeks before the delivery and the response was quick. They help me with my concern regarding the payment method since I'm outside NL. Everything was so smooth until the delivery day. My boss is so happy with the gift.
Thank you so much.
Maureen
On Monday 9 August Ms. Aku Kwamie from Geneva, Switzerland send us a email:
Dear Sugarbush,
Thank you so much for confirming the delivery today. My cousin sent me a sweet message, and commented on how lovely you were. We appreciate your hospitality so much.
Be blessed,
Aku
On 27 July 2021 10:58 Bruce Dodworth from Sea Glass PR Ltd in Stamford - UK wrote :
Thank you, Henk. Very professional. You made it all very easy, which we greatly appreciate.
If we have further events in Benelux then we will be sure to use you again.
All the very best,

Bruce
On 2021-07-22 18:29, Bernard Kirk, Chief Executive Officer, Camden Education Trust - Ireland wrote:
As an international customer we are always so pleased with the quality of the baskets, the presentation
and above the speed with which they are delivered.
A super company to work with.
Thanks so much Sugarbush.


On 21 July 2021 08:00, Lynsey Schonfeld from Ir. Olav Globetrotter co. wrote:
Hi Henk,
Thank you for the confirmation. Sorry that you had a bit of trouble with the deliveries.
We have received amazing feedback from everyone.
Thank you for doing a great job 😊
Kind Regards / Groeten,
Lynsey
On 2021-07-07 15:00, Bouchard, Nancy from Eurovision, Madrid wrote:
Hello Henk,
Thank YOU and your team so much.
I am contacting the hotels to make sure the confirmed deliveries to the rooms are still in place.
I will let you know if any additional details are needed here.
You have been so detailed during this whole process and able to adjust to our timeline and additions.
Thank you again for everything.
Best,
Nancy
On 19 May 2021 Gladey Tan from Singapore wrote :
Hello!!!
Many thanks for taking time to send photo's of my gift and my best friend Stella loves the gift a lot!!!
Many thanks for updating, really appreciate!

Take care and please stay safe! ❤️
Best regards
Gladey
On 12 May 2021 Sophie Norman from Karrinyup in Australia wrote :
Hi,
I've received notification that my friend received her gift basket.
Thank you so much for your help and wonderful service.
It makes ordering from a long way away easy!
Kind regards
Sophie Norman
On 01 May 2021 Sheryil Valchx from New Zealand wrote :
Thank you very much for your excellent service. We are extremely grateful.
Kind regards Sheryil Valchx
On 22 April 2021 Maija Gribule from Latvia wrote :
Hello,
I would like to thank you for your best service! The gift box managed to please my boyfriend
for his birthday !
Best regards,
Maija
On 8 April 2021 Bernard Kirk from Galway in Ireland wrote :
Yes our daughter and boyfriend were delighted and sent us a photo.
Thanks again for a great service and we will be back again soon.
Bernard
On 27 March 2021 Dave Preece from Westham in the UK wrote :
Good evening and thank you for the confirmation of safe delivery of my order. My son had already telephoned me to thank me for their Easter gift.
I wanted to say a personal thank you for an excellent service and very quick delivery. Since the disaster of Brexit has happened we can no longer simply send gifts from the UK to NL, and as a result I have been searching for somewhere in the Netherlands we can order from to allow delivery to my son and his family.
Your service seems ideal for this so I will definitely use your services again in future.
I hope you are keeping safe and well in these troubled times,
Thank you once again,
Regards
David Preece
On 03 March 2021 Ana Aparicio from the USA wrote :
Excellent service!!
I'm living in the US and the communication with the team was great! No complaints at all.
On 23 February 2021 Jacquie Pascoe from the UK wrote :
My daughter has just received the second hamper from you - and has been absolutely delighted with both.
She has only just relocated to Netherlands and with the current difficulties that Covid has bought, it has been wonderful that I can order from UK and have your wonderful gifts delivered direct to her over there, and such a quick and efficient service you provide too!
Thank you Sugarbush - you will be hearing a lot from me in the future!!!! :
On 15 February 2021 Binay Pradhan from Holland wrote :
Extremely delighted with the service. I was a bit sceptical about the delivery timeliness due to snowfall in Netherlands, hence made a call and requested if the packaging and delivery can be arranged a bit faster. And it was amazing how co operative they were. Really loved it. :)
On 21 January 2021 Juan Gonzalez from Canada wrote :
Great service! The delivery person went out of their way to deliver it to a different address a couple of blocks away! Would recommend you guys to everyone! :) Thank you so much!
On 10 January 2021 Sofia Tzagkaraki from Greece wrote :
What an Excellent Service!
Henk, you are the best! Never seen such friendly interaction! I will recommend this gift shop to all my friends in NL! :
:) :) :)
On 21 December 2020 Justine Kinsella from the UK wrote :
Thanks so much Henk,
My nephew has messaged me to say the hamper arriving has made his day. He sent me a photo of it and it looks fabulous. Thank you for your help when I placed the order from the UK. I will definitely be a return customer.
Merry Christmas xx
On 15 December 2020 Joy Richards from Canada wrote :
Nobody gives better and more pleasant service than the gentleman running Sugarbush!! No-one!! The best selection for hampers and gifts in Holland. Flexibility, patience and friendliness galore! Highly recommend them and will be back again! :) Thank you Henk! You're one in a million. Merry Christmas and all the best for the coming year.
Posted by Caroline 13-12-2020 | 00.41
My beautiful Christmas gift basket (ordered from Australia) was recently delivered to my daughter in The Netherlands on the day requested, and in perfect condition. Thank you so much - I am very grateful for such excellent customer service. She is delighted with her Christmas present. I can strongly recommend the Sugarbush company to anyone wishing to send a gift to The Netherlands. Many thanks. I'll be back next year! 😊

Posted by Simon Dillon 07-12-2020 | 20.00
Great service, easy ordering, great quality, fast delivery
Thank You
Merry Christmas

Posted by J & M Bartolo, Melbourne, Australia 07-12-2020 | 12.09
Dear Henk,
Thank you for your speedie and great service. Our son and partner were totally surprised and delighted with the Christmas Cheer Hamper. It was a pleasure doing business with you and will recommend Sugarbush to our friends.
Merry Christmas and Happy New Year

Posted by Ruxandra Vitale 17-11-2020 | 13.03
It is an outstanding company to be doing business with. They are ever so understanding, kind and patient. I would totally recommend using their services and products. The service and customer service is second to none. They also have a great choice of baskets which look gorgeous and can accommodate all budgets and occasions!!
Posted by Hristina Aleksoska 14-11-2020 | 09.30 Christina Aleksoska from Skopje, North Macedonia :

Dear Henk,
Thank you for the amazing service, the gift arrived My friends are very happy!
Have a nice and healthy weekend,
Hristina.

Posted by Anna 11-11-2020 | 14.03
A great experience! I ordered the Delizioso Italiano basket, from the US to a dear friend in the Netherlands. The process was seamless and so easy. Great communication on order status, very fast delivery (next day!), and the basket was presented beautifully, including a pretty card with my message. I didn't know what to expect, but it was such a perfect experience I would recommend highly to anyone!

Posted by Sugarbush Gifts 03-11-2020 | 10.10
On Monday 2nd November Rebecca Tilton from The Hague posted on Google Bussiness :

I wanted to send my friend a unique birthday gift and had left it to the last minute. I emailed Sugarbush Gifts, asking if they could make up a customised gift basket. They replied within a few hours with a photo of the custom basket that they had made up attached. They were even able to deliver it the same day! Such amazing customer service! Highly recommend!!!
Posted by Lina L 20-10-2020 | 18.46
Excellent service. I ordered the pasta delight basket as a surprise for my son. It looks the same as it appears in the photo. Many thanks Greetings from switzerland
Posted by Mary Kowalchuk 14-10-2020 | 19.14
Ordered a gift wine (duo wine) and cheese, crackers, etc. basket for a nephew and his bride who live and work in the Netherlands. It arrived within the time line advertised which was perfect. The recipients sent pictures and it looks exactly as advertised - very nice! I ordered this gift basket from Toronto, Ontario, Canada. I would highly recommend this company and, have no doubt, I will use them again in the near future. Thank you Sugarbush Gifts!
Posted by Bernard Kirk 25-09-2020 | 18.44
email received from Bernard Kirk,
Galway, Ireland :
Thanks so much for the prompt delivery
She was thrilled and it looks great
Appreciated so much and we will order from you again
Thanks
Bernard
Posted by Mel Bailey 19-08-2020 | 10.07
This message was sent to Sugarbush Gifts by Mel Bailey in Australia :
Hello!
I just wanted to say a very big thank you for the beautiful wine and cheese gift you delivered to my friend Rebecca. I live in Australia and would have loved to see her for her 30th birthday. This was just perfect, thank you!
Posted by Iryna Kurkina 10-08-2020 | 10.57
Chief Business Officer,
Academy Smart LTD - Ukraine
Have ordered a gift for my business partner second time this year, and got totally amazed by the level of service and attentiveness to each order from Sugarbush team. They are amazing! Very caring and nice! Highly recommend.
Posted by Mathilda
08-08-2020 | 16.30
Sugarbush, you are THE best! Thanks for delivering a beautiful birthday gift to my son in The Netherlands while I am in South Africa. Best and friendliest service I've had in years! Thanks again!
Posted by Iryna 17-07-2020 | 13.54
SugarBush team has provided me with amazing service!
I have ordered a gift just in a day before the the holiday of my business partner. And they wrote me a message that the gift will be delivered next week. I asked them if they could deliver it next day, as it was very important for me. And they delivered the gift just in my partner's birthday! I was touched and impressed with the quality of the service. They are very responsive and kind. Highly recommend!
Posted by Claudia 08-07-2020 | 15.45
Dear Amanda and Henk, thank you for the delivery! My friend loves the package and he could celebrate his birthday in the midst of pandemic!
Posted by Linda 07-07-2020 | 19.42
Please can you let me know as soon as the port got sets are available
Thanks
Posted by Heather Wilburn 22-06-2020 | 14.00
We had a unique ordering situation and you provided a wonderful solution that perfectly accommodated our needs, plus you kept us informed at all times. Thank you so much for your flawless customer support every step of the way!
Posted by Kevin Hawes 19-06-2020 | 17.02
Thank you keeping me informed and awesome service, i will highly recommend Sugarbush.
Posted by Moses Paul 27-04-2020 | 13.35
Blazing fast delivery to Amsterdam took about 5 hours. Next time ill order it a bit closer to the Birthday.
Thank you very much.
Posted by Jon Eaves 20-04-2020 | 18.39
Wow! Ordered from the UK at 19h00 on a Sunday- delivered soon after 10h00 the next morning.
If only you had not messaged the recipient we would BOTH have been extremely surprised by your
delivery and not just me!
Very much appreciated - dank je wel!
Posted by Susan 17-04-2020 | 15.55
Thank you for personally delivery a 50th birthday gift to our director. Your service was beyond the expected and really brightened up his day. I hightly recommend Sugarbush Gifts.
Posted by Vasiliki Sfyrla 17-04-2020 | 09.55
Hello,
Thanks a lot.
The basket was truly appreciated.
Thanks for your efficiency.
Best regards,
Vasiliki
Grenoble
France
Posted by Christina Skinner 17-04-2020 | 07.40
Hi Sugarbush Gifts,
Thanks so much! Ronja was so pleased and surprised and she said the couple that delivered it were lovely. 😊 Great service!
All the best,
Christina
Posted by Josine McLean 10-04-2020 | 11.14
Many thanks again Henk, and appreciate the update.
All the baskets that were delivered were very well received and they looked beautiful!
Such a lovely way to start the Easter weekend 😊

Josie McLean
ELSEVIER
Posted by Heather Proellocks 10-04-2020 | 11.11
Thank you, Nick loved the gift and his baby loved the box it came in!
Heather Proellocks
Thorneside
Australia
Posted by Madalina 31-03-2020 | 18.40
Arrived on time for my father in law's birthday, great gift basket! Thank you, will order again soon
Posted by Jacky Hair 27-03-2020 | 20.20
My son has been living in Amsterdam for 3 years- we are in NZ (Dad & Mum). I have used Sugarbush Gifts Hampers as a Christmas gift each year which have always been delicious(according to my son!) and easy to order. This year he has just received a hamper for his birthday and to share with his flatmates while they are all in isolation during the corona virus pandemic. Thank you.
Posted by Amanda from Sugarbush Gifts 17-01-2020 | 12.10
E-mail received from Ms. Chang

Dear Amanda,
Thank you so much!
I am grateful to be working with you from the other side of the world.
Appreciate for all the help rendered to a successful delivery of all gift baskets!
Have a great 2020! ❤

Esther Chang
Blue Waves Group, Singapore
Posted by Sugarbush Gifts 27-12-2019 | 16.38
e-mail received 10-12-2019 from: J-H Erasmus, The Hague

Thank you very much - I confirm all the Christmas packages arrived safely at my office today and I have started handing them out.
I'm really very happy with how the packages look and also your help during the process.
Thank you to you and the team!!
Best regards
Posted by Meilany Perulina 18-10-2019 | 12.14
Thank you so much for Sugarbush, the package was delivered on time and my boyfriend really love it...once again thanks so much for your help. I really wish the best for sugarbush.

xoxo
Meilany
Posted by Sugarbush Gifts 01-10-2019 | 12.33
On Saturday 28 Sept. we received the following message from Mrs. Joan McHardy in Overloon, The Netherlands:

Dear Sugarbush, Thank you for the personal delivery of my lovely hamper. I did open it and have been slowly enjoying all the lovely contents. I told my son and daughter in law that it was a beautiful surprise. Keep up the good work. Many thanks. Joan
Posted by Patrick Pile 14-01-2019 | 13.25
Looks lovely. Thanks very much. I hope the recipient's like it as much as I do.
Pleasant
Patrick
Honselersdijk
The Netherlands
Posted by Jacky Hair 06-01-2019 | 14.16
My son picked up the basket this evening – thank you very much. Lovely that even from New Zealand we can still spoil our children for Christmas.
Regards
Jacky Hair
Posted by Reception @ Tonstate 03-01-2019 | 17.13
On 2018-12-21 15:01, Reception wrote:

Hi Sugarbush,
Thank you so much for your promptness. We will definitely be using your services more often, moving forward!
Many thanks again.
Best
Fran

The Tonstate Group Ltd
3 Park Place
St James's
London SW1A 1LP